My intention in writing Women Are Superior To Men : The REAL Secret to a Fantastic Marriage, Joyful Parenting & Better Sex! and blogging is to help men and women through the challenges of maintaining a healthy relationship and lasting sexual intimacy. My point of view may surprise a lot of readers though, because as a man, I am admitting that women are superior to men. For me, that is the key to making joyful, loving marriages and relationships , being great parents, and keeping the excitement alive in bed.
It is time to celebrate women. 
They are the world's greatest creation. Most wives, mothers, and girlfriends are kind and caring, while men can be uncommunicative, slovenly, a bit unhygienic, and irritating. Many women still adore their boyfriends and husbands regardless. The goal of this book is to focus on the magic of love, romance, and sex that are the primary sources of happiness for so many couples.
On behalf of myself and all men, I aim to provide advice that can help make men better partners in their relationships. This process begins by learning to express respect, appreciation, and sympathy for what many women tolerate in their attempts to civilize a man into a "hu-man". It has always fascinated me that so many couples have the same arguments about how often to have sex, how to share chores like doing the dishes, how men dump messes everywhere without noticing, and how men communicate in grunts or jokes when their wives are looking for a serious conversation.
How many times have we all heard a woman say, "Having a husband is exhausting—it's like having an extra child?" To this end, my book explores both the funny and serious sides of how to make relationships work, especially in suggesting to men how certain changes in their behavior and attitude can go a long way to pleasing their wives. Each chapter analyses a specific issue in relationships and offers simple, evidence-based strategies to keep the sun shining constantly in your home. Human happiness is dependent on relationship success, yet most people are never taught these simple principles of human management that their wellbeing relies upon.
With Women Are Superior To Men, I set out to provide an easy guide to creating and maintaining a magical relationship filled with love, joy, and better (and more frequent) sex. One of my female colleagues picked up this book at work, read a few pages, and said, "Wow! This is exactly what I go through with my mate! I'm going to read it and then pass it on to him!" That's what I was aiming for: to create something relatable, warm, funny, but serious enough to prove useful to both partners in providing relationship management guidance.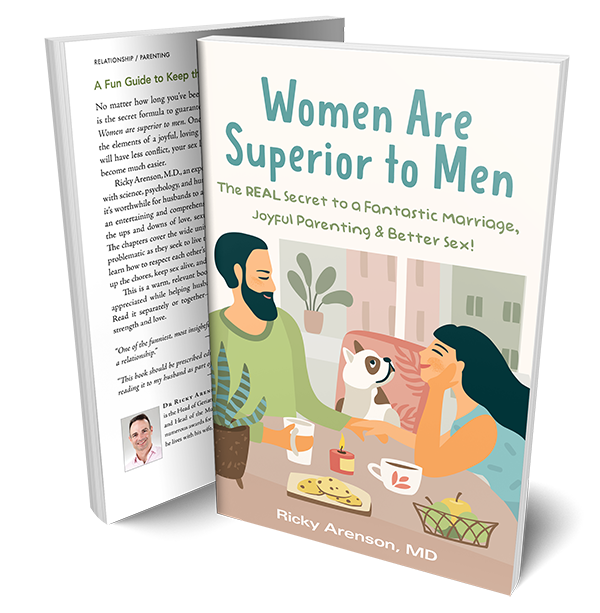 This book is for women who want to feel more appreciated, and it's also for men who want to get a better understanding of women to improve their relationships. Given the importance of creating a happy love relationship, this is a book worth checking out.