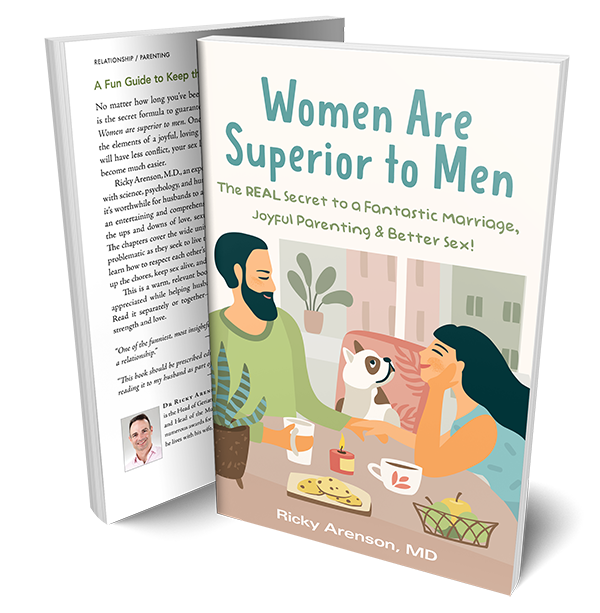 Women Are Superior to Men
The Real Secret to an Inspiring, Passionate Relationship
Ricky Arenson, M.D., an experienced Endocrinologist and husband, explains with science, psychology, and humour why women are superior to men and why it's worthwhile for husbands to admit this. His perceptive view makes this book an entertaining and comprehensive guide to assist partners to better navigate the ups and downs of love, sexuality, conflict, and gender differences. The chapters cover the wide universe of issues that couples often experience as problematic as they seek to live together for decades in close partnership. You'll learn how to respect each other's strengths, work as a team, solve disputes, divvy up the chores, and so much more!
This is a warm, relevant book that will make wives feel acknowledged and appreciated while helping husbands laugh at their failings and inadequacies. Read it separately or together—and see how your relationship will gain in strength and love.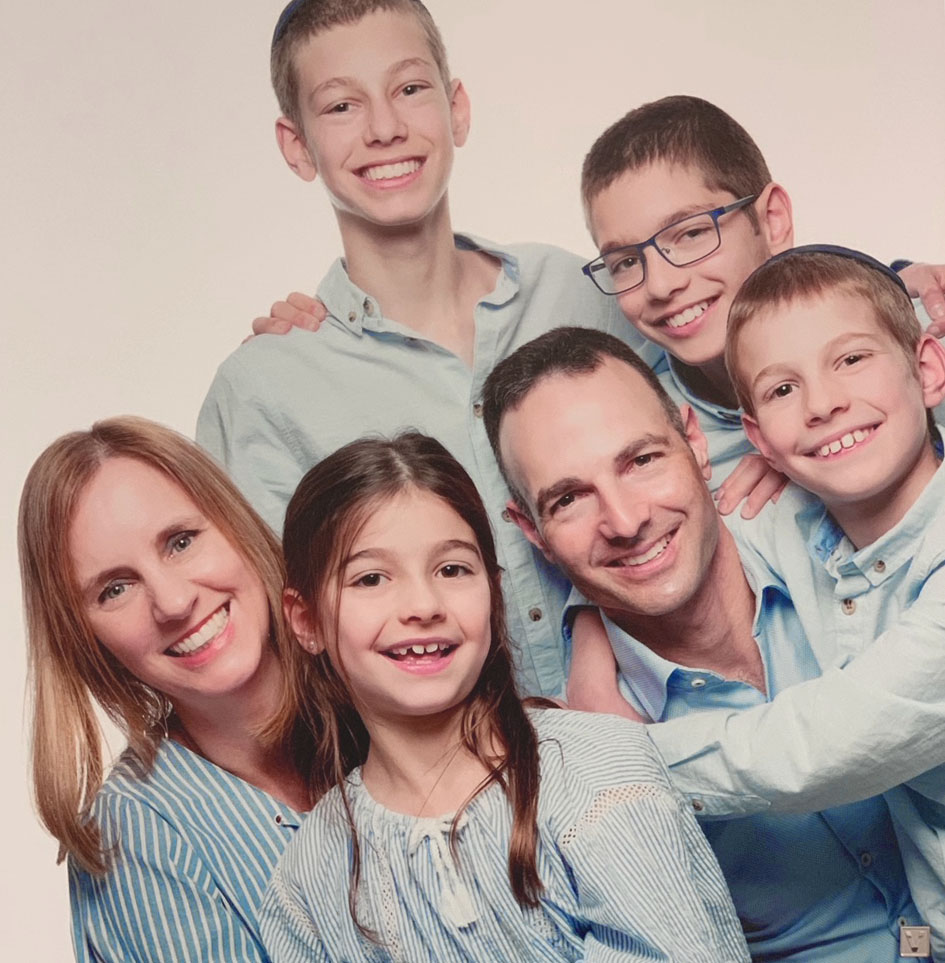 My primary purpose in writing Women Are Superior To Men was to celebrate women and help them make their relationships better. Most wives, mothers, and girlfriends are kind and caring. They are the world's greatest creation. Men can be uncommunicative, slovenly, a bit unhygienic, and irritating, but many women still adore their boyfriends and husbands regardless. The goal of this book is to focus on the magic of love, romance, and sex that are the primary sources of happiness for so many couples.
On behalf of myself and all men, I sought to provide advice that could help make men better partners in their relationship. This begins by learning to express respect, appreciation, and sympathy for what many women tolerate in their attempts to civilise a man into a "hu-man".
One of my female colleagues picked up this book at work, read a few pages, and said, "Wow! This is exactly what I go through with my mate! I'm going to read it and then give it to him to read!" That's what I was aiming for: to create a book that is relatable, warm, funny, but serious enough to prove useful to both partners in providing relationship management guidance.
It has always fascinated me that so many couples have the same arguments about how often to have sex, how will they share the chores like doing the dishes, who will drive the kids to their playdates, and how men communicate in grunts or jokes when their wives are looking for a serious conversation.
How many times have we all heard a woman say, "Having a husband is exhausting—it's like having an extra child?" To this end, my book explores both the funny and serious sides of how to make relationships work, especially in suggesting to men how certain changes in their behaviour and attitude can go a long way to pleasing their wife.
Each chapter analyses a specific issue in relationships and offers simple, evidence-based strategies to keep the sun shining constantly in your home. Human happiness is dependent on relationship success, yet most people are never taught these simple principles of human management that their wellbeing relies upon.
With this book, I set out to provide an easy guide to creating and maintaining a magical relationship filled with love, joy, and better (and more frequent) sex.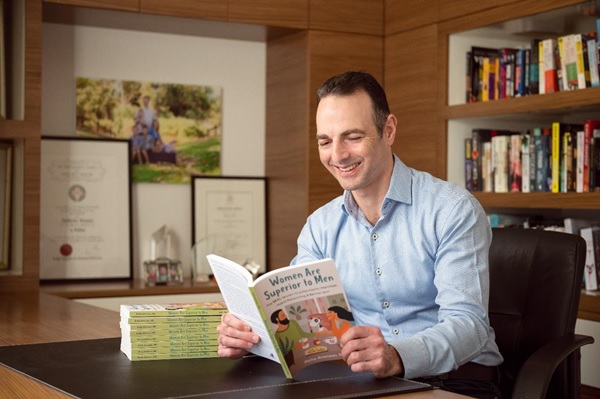 "One of the funniest, most insightful books ever. I highly recommend it for anyone in a relationship."
"This book is for women who want to feel more appreciated, and it's also for men who want to get a better understanding of women to improve their relationships. Given the importance of creating a happy love relationship, this is a book worth checking out."
"As he highlights gender differences in a manner that is enlightening and humorous, Dr. Arenson makes accessible and understandable the actions and reactions of both sexes. The result may have begun as an emphasis of women's superiority, but it ultimately demonstrates how both sexes can interact more positively and effectively. Readers will find 'Women Are Superior to Men' an absorbing, revealing, and downright fun to read."
"I shared the first page with my wife after I stopped laughing, Love the smart insights and sense of humour. Clearly Dr Arenson has lived a full life - just based on page one of his amazing book. Thank you for the simple, wise words of wisdom."
"This is the funniest and most helpful book I have read in a long time."
"5.0 out of 5 stars Breath of fresh air This is the funniest and most helpful book I have read in a long time. I applaud Dr Arenson for highlighting the differences between men and women and for teaching us to embrace and celebrate these differences, so that we can lead more successful relationships with our children, colleagues and spouses. The book also teaches us that we should laugh at ourselves more. The world is such a serious place these days and this book is certainly a breath of fresh air."
"5.0 out of 5 stars I shared the first page with my wife after I stopped laughing Love the smart insights and sense of humour. Some 'self help' books are just so boring one wonders whether the author has ever lived a day fully. Clearly Dr Arenson has lived a full life - just based on page one of his amazing book. Thank you for the simple, wise words of wisdom. Thanks for letting me laugh at myself. More importantly, thanks for sharing with my wife that all men are equally useless husbands. Such a relief."
"5.0 out of 5 stars A Must Buy for Not Only Men, but also the Women in Their Lives! Thank you Dr Arenson for a hugely insightful read! Peppered with humour, but also science, psychology and ultimately just good common sense. This is a must have for all those who value their relationships.And whilst I've always had an inkling that this was true, you've definitely sold me on the concept - women are most certainly superior to men!"
"5.0 out of 5 stars Excellent! A great book on a very important topic."
"5.0 out of 5 stars Brilliant! Very well written book, mixing medical science psychology and life all into one amusing yet highly relevant read for all. A must have book ."
"5.0 out of 5 stars Exceptional, insightful and hilarious! Whilst I found this book really funny, I found it to be also exceptionally deep, relevant and insightful. An absolutely amazing read!"
"5.0 out of 5 stars Nailed It! When you thought it was all falling apart, a refreshing relook at life's oldest issues."
Whatever you give a woman, she will make it greater.
If you give her sperm, she will give you a baby.
If you give her a house, she will give you a home.
If you give her groceries, she will give you a meal.
If you give her a smile, she will give you her heart.
She multiplies and enlarges what is given to her.
So, if you give her any crap,
be ready to receive a ton of shit!
—Erick S. Gray
I think women are foolish to pretend
they are equal to men;
they are far superior and always have been.
—Sir William Golding